Volunteer Visitors with Red Noses: An Interview with DR CurlyBubbe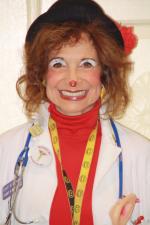 Editor-in-Chief Susan J. Ellis met "DR CurlyBubbe" a year ago in the parking garage at the Hospital of the University of Pennsylvania (HUP) as Ellis arrived for one of her weekly chemotherapy visits. DR CurlyBubbe, a/k/a Esther Gushner, was hard to miss, what with her bright yellow knee socks, hat with a red rose, and doctor's coat covered with smiley faces and various badges. As Ellis took in her whole outfit, including a badge saying, "Eat a prune – start a movement," she realized she was watching a volunteer "clown doctor" report for duty at the hospital! And naturally, they started talking.
This special feature by Ellis tells the story of Esther Gushner, who nearly 18 years ago became a clown doctor and founding member of Bumper "T" Caring Clowns. Readers will soon discover why Caring Clowns prefer to be described as "Hospital Visitors with Red Noses;" why Gushner doesn't really like the word "clown;" and how these "faux doctors" focus on one-to-one conversations (most often with adults) instead of trying to be funny with patients in critical and often frightening situations.
With 120 trained Caring Clowns in 27 hospitals in six states, Ellis and Gushner explain how the Bumper "T" Caring Clown volunteers mesh with each hospital's existing Volunteer Services department, a part of the story that sends a strong message about how volunteer resources managers can successfully collaborate with community organizations. And by the end of this story, it will be perfectly clear why each Caring Clown's signature red nose is the passport to people's hearts - including Ellis' own.