Practical Ways to Capture Public Attention with National Volunteer Week Celebrations

In last issue's Points of View, we examined the purpose and potential of a National Volunteer Week. We argued that such national celebrations are not just about individual volunteer recognition, and we took a more strategic look at the purpose and value of such weeks:
…we strongly believe that individual volunteers should be thanked by the organizations to which they give their service. But that can and should occur at the most relevant time of the year for that recognition. It may coincide with a National Volunteer Week, but it doesn't have to. Often the only reason it coincides with Volunteer Week is because that's the most convenient time for the organization to say thank you, so the organization can satisfy itself that it's done its thanking duty.
In this continuation, we want to get more practical. So we've decided to suggest some ideas that should help deliver a more visible celebration of volunteers during National Volunteer Week, if that is when you plan to hold an event. Think smiles, names tags, and murals! Seriously!
Observations from Australia
Earlier this year Rob had the privilege of returning to Australia to run some training. The trip coincided with the country's National Volunteer Week, at the beginning of May. Rob spent the week in Perth working with volunteer centres, Volunteering Western Australia, and volunteer resources managers—all directly involved in activities to celebrate volunteers. Here are some of his reflections on what the Aussies did that made their event successful.
They Picked a Great Theme
For the second year in a row the theme for Australian National Volunteer Week was, "Give Happy, Live Happy". This highlighted the research and anecdotal evidence that volunteering is good for our physical and mental health, and offered a different angle to promote volunteering during the week (to which the media seemed to respond well).
It is interesting to note that this theme was about promoting volunteering, not recognising individual volunteers. This chimes with our observations in the last issue. For us, this was a welcome move away from broad themes such as the UK's "Recognise, Reward, and Recruit" and the United States' "Celebrate Service." The British three R's focused on managing individual volunteers rather than a strategy to make volunteering, in general, visible—and so didn't provide such an interesting hook to catch the attention of the media and others not living in the bubble of the volunteering movement. The American determination to substitute the word "service" for "volunteer" simply offers a vague, bland slogan that doesn't clearly speak to anyone.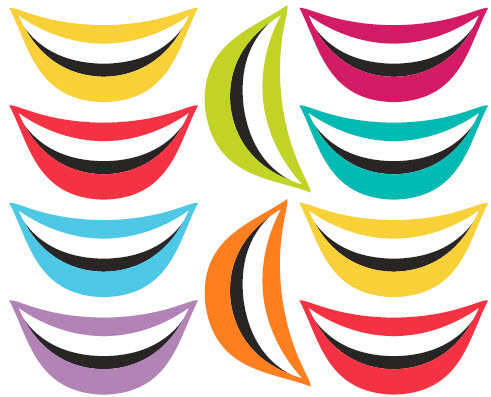 They Did Something Different
Something that really caught Rob's attention in Perth were the smiles. These simple images were available to download and print out from the Volunteering Australia website. Volunteer centres and others attached lollipop sticks to the smiles and distributed them in public places, encouraging people to take selfies and group photos for posting to social media to help promote the week.
Volunteering Western Australia really got into the smiles concept. Not only did their staff all have pictures taken sporting their "Give Happy, Live Happy" smiles, but they also visited the main shopping mall in Perth and gave out smiles, encouraging the public to get their photos taken with a National Volunteer Week photo frame. You can see some examples of these photos below and many more are available to view on the Volunteering Western Australia Facebook page.
| | | |
| --- | --- | --- |
|   | |   |
|   | The Volunteering WA team shows off their Give Happy Live Happy Smiles |   |
| | | |
| --- | --- | --- |
|   | |   |
|   | Give Happy Live Happy Smiles in Perth |   |
The smiles concept was a simple, inexpensive, and fun idea that engaged people in a fun way to highlight and promote volunteering. The people who were stopped in the mall might by coincidence already been volunteers, but the intent was not to recruit them but to promote volunteering more broadly to the public. They learned about Volunteer Week and the 'Give Happy, Live Happy' theme and, if they took selfies, were encouraged to share them on social media with the hashtag #givehappylivehappy. And they could take away the smile sticks with them.
Question: What could you do next year that is fun, cheap, and memorable to showcase your National Volunteer Week?
They Didn't Just Celebrate Volunteers
Of course, for many individual organizations a big part of National Volunteer Weeks is an annual opportunity to do formal recognition of their own volunteers as part of a community-wide recognition event. This was no different in Western Australia, with a huge gala dinner being held midway through the week in a city centre hotel. The state governor general and senior state government minister responsible for volunteering both attended, as well as hundreds of volunteers, volunteer managers, volunteer centres, and invited guests. They all enjoyed an evening of entertainment and awards to celebrate the achievements of Western Australian volunteers.
Notable in Perth was one award given out amongst all the inspiring winning volunteers: Volunteer Manager of the Year. It was great to see those who work so hard to facilitate and support the achievements of volunteers recognised during this high-profile event. It conveyed the message that volunteering doesn't just happen and that, to fully realise its value, it requires support and investment.
Question: How can you recognise the achievements of those that make volunteering possible next year?
They Engaged the Community in Helping to Promote and Celebrate Volunteering
It was wonderful to walk through Perth at the start of National Volunteer Week and see—in full view outside a range of organisations—the public displays of the Australian Red V symbol for volunteering. The photo below shows you one example from outside the Perth Concert Hall. Not visible in this picture is a sign that explained the display to viewers.
| | | |
| --- | --- | --- |
|   | |   |
|   | A display highlighting National Volunteer Week outside Perth Concert Hall |   |
This resonated with Rob because, quite often, National Volunteer Weeks are invisible to the general public. They may see or hear something about volunteering via local media but I suspect most people outside of the volunteering bubble wouldn't know there was a week to celebrate and highlight volunteering. These public displays in Perth were outside organisations in which volunteers are integral, but many people wouldn't obviously realise that. Rather than displays outside, say, a volunteer centre, these were outside high profile, very publicly visible buildings and institutions, showcasing the importance of volunteering throughout the community. What a wonderful idea!
Qusetion: What could you do next year to engage organisations your community to help raise awareness of volunteering?
Let's Get Creative
We realize that most readers have little input into the themes or activities of their country's National Volunteer Week—if there even is such a thing where you live. But it may be possible to influence how your local community celebrates volunteers, if you join forces with other volunteer managers with your local professional network or volunteer center. Start by brainstorming possible activities. Then pick something relatively easy and inexpensive to do and give it a try. Document the process and the results and share your experience widely, most especially with the body responsible for planning future National Volunteer Weeks!
First, agree on the goals and desired outcomes of your activity. That list would include such things as:
Something that will be noticed by the public and the media in a way that shines a light on volunteering in your community, makes current volunteers feel proud to be of service, and entices non-volunteers to consider exploring opportunities to get involved.
 
An activity bigger than a single organization, recognizing more than one group of volunteers and more than only a handful of award winners. (This means being able to do more than one agency can do on its own, with the help of many more heads and hands.)
 
Provides public education that counteracts stereotypes and limited awareness about volunteering, expanding awareness of who does it and for what causes.
 
Includes a wide variety of types of volunteering, not just traditional human services, assistants-to-paid-staff roles. For instance, here is a chance to invite volunteer fire companies, civic clubs, hospitals, museums, and a greater cross-section of the community to work together instead of in separate spheres.
 
A call to action that will make viewers/participants want to do even more volunteering and support existing volunteer efforts—and provide publicity for how people can find volunteer opportunities throughout the year.
 
Gives the mass media great stories to tel, stories that do all of the above and do not simply praise "super volunteers" who make more people feel guilty than motivated.
The nice thing about this exercise? The time and effort you spend determining goals and outcomes will provide a foundation for National Volunteer Week festivities well into the future.
Ideally the activity you choose each year should be something all of you can do separately and together, like Perth's smiles project. Here are a few additional starter ideas; some have been done successfully in many locations, and some are on Susan's and Rob's personal wish lists of things we'd love to witness:
Parades. Invite any volunteer-involving organization to send volunteers to march down Main Street (of course, this needs all the proper municipal permissions!). Marchers  can carry signs explaining what they actually do as volunteers. You could cluster them by agency or let them march en masse, providing their signs show all their volunteer roles (some people will have trouble picking which of their volunteer sites they prefer to march alongside). Along the parade route (or at the end, if there is large gathering spot) encourage participating organizations to set up tables or booths to explain their work and promote available volunteer opportunities.

Special Name Tags. Design a name tag that every participating organization will use (so that people will begin to see the tags in a lot of places). If funds allow, get the pin-on kind, not stick on, so that they can be worn for longer than a few hours and even kept as a memento. There are many variations possible on this theme, but here is one simple prototype. Ask anyone and everyone to complete and wear a nametag; after printing a name, each person should use the space below to identify what he or she does as a volunteer right now or perhaps has done at some point during the year. List one thing or 50 things. Also, hand out cards that explain  National Volunteer Week and provide some websites with volunteer opportunities (to give to friends).  It's important to ask your executive director and your custodian—and everyone in–between—to fill out the nametags. This will show current volunteers a different side of the staff (and will stop the "us-and-them" mentality that's too prevalent).
Informal Gatherings. One of the problems with formal awards banquets is their costs and their exclusivity. Only specially invited guests can attend and, even if tickets are sold to the public, only those who can afford them will come. And who actually likes these affairs? Instead, hold a big event and encourage as many volunteer participants as possible. It can be a pot luck with volunteers each contributing a dish (the point of the party is to be together and celebrate, not to be fed by some donor). Or go for pizza or make-your-own ice cream sundaes. Structure the gathering so that attendees can spend time with all the volunteers in their organization, but also feel affiliated to everyone else in the room. This means nametags that are legible and identify where each person volunteers. Offer ice breaker exercises that help volunteers meet one another. Take lots of pictures. Do things like line dances and get people to mingle.
Turn a Formal Gathering on Its Head. If you do stage a formal event, try something different. Instead of having volunteers sit and listen to the board chair and chief executive say warm words about volunteering, get the chairperson and CEO to sit in the front row of the audience. Give each a special chair if you like, maybe a throne? Then have volunteers be the speakers, sharing stories of why they volunteer, what they do, what they gain from volunteering! The point is to highlight to senior management the breadth of roles volunteers do, the significant work they perform, and their true value to your organisation and its mission.
 
Paint a Mural. Many years ago, a volunteer center in South Carolina got permission to paint the temporary wall around a mid-city construction project. A professional artist painted the outline of the images and then volunteers from many different agencies converged downtown on a Saturday to paint it all in. When they were done, it showed a "tug of war" all around the block, with dozens of people of all types pulling their weight. And the face of each person was a blown-up photograph of an actual volunteer! The mural included a panel that thanked everyone and included contact information for the volunteer center, in case anyone wanted to learn more about volunteering. This mural remained up for half a year.
Question: Do these examples spark any ideas for you?
CONCLUSION
We hope these ideas succeed in widening your imagination about how to celebrate National Volunteer Week in ways that make everyone feel good and also accomplish something for volunteering in general. Let's not live in that "bubble of volunteering," talking only to one another. Volunteering is universal, but it's up to each one of us to show how true that statement is.
Now it's your turn. Please share with us examples of successful National Volunteer Week (or Day) activities in your country or community. Or add to the list of creative ideas for others to consider!