Volunteering at Ground Level

A lot has been said about "spontaneous" volunteering when it materializes as an emergency response to natural disasters – the human impulse to help in some way, any way, when needs are life and death. But every once in a while, these unexpected circumstances illuminate not only the essence of volunteering but also the arrogance of attempting to structure it. The gap between the official response of the governments of Europe and the private actions of their citizens to the alarming exodus of refugees from Syria and other Middle East hot spots raises some important issues about self-directed volunteering.
Spontaneous volunteering is messy because it is haphazard, too often more of an interference than an assist to more coordinated, larger-scale disaster response. And it can waste time and resources, rather than do much good. On the other hand, such efforts do at least give food, blankets, and caring to people in need. And these efforts show the caring faces by volunteers who simply "got on with it" and acted, without volunteer managers to coordinate them.
In recent years, especially since 9/11, we've seen all sorts of studies and publications that try to teach how to organize a crisis response. The trouble with these studies is that all of them assume civil authorities are rising to the occasion and succeeding in their efforts to coordinate citizen volunteers as assistants to the aid efforts they initiate.
Volunteering as Protest
What happens when individuals see what they consider to be a pressing need that no one in power is addressing? 
At the extreme, the response may become revolution. But that is not necessarily what maverick volunteers have in mind when they first take action. In fact, the hope is that the small or local effort will open eyes and hearts and lead to a more widespread, official response.
An instructional example of this process is the evolution of services to people with AIDS. When the disease began taking lives in the 1980s, governments and even medical practitioners were slow to recognize the deaths as an epidemic. Then response was further detoured by first identifying the disease as limited to gay men and then to intravenous drug users. Histories of the disease, such as the one from AVERT, an international HIV and AIDS charity based in the UK, make it very clear that:  
While the government failed to respond to the epidemic, a number of non-governmental organisations were founded in the most affected areas of the USA such as The Kaposi's Sarcoma Research and Education Foundation in San Francisco (later renamed the San Francisco AIDS Foundation) and, in New York, Gay Men's Health Crisis (GMHC). In 1982 GMHC distributed 50,000 free copies of its first newsletter about the syndrome to hospitals, doctors, clinics and the Library of Congress.
Within the AIDS service community, the story of "a group of angry gay men in a living room" deciding to do something is legendary, and rightfully so. There is no question that these early volunteers made enough noise to get attention and no amount of appeasement from government agencies, drug companies, and health service providers would be accepted until a real strategy was in place to address AIDS.
The AIDS example also illustrates the wonderful parable about the babies in the river. One day, a group of people sat on a river bank when they heard a baby screaming. Aghast, they saw an infant bobbing in the water. A few of the people immediately jumped into the river to save the baby, and then they saw another baby, and then another. More of the group dived to the rescue. To their shock, however, they watched as a few people walked away from the river. They called, "Where are you going? Can't you see these babies need saving?" To which the walkers replied, "We're going upstream to stop whoever is throwing these children into the river!"
Effective action requires both the immediate response to human suffering and the determination to take political action to advocate for long-term, official response.
The Middle East/European Refugee Crisis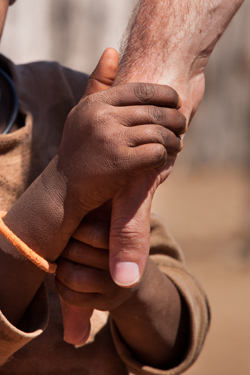 Refugees from the civil war in Syria and from life-threatening situations in other Middle Eastern countries have recently flooded into Europe, causing unprecedented turmoil for the southern countries and disarray in the bureaucracy of the European Union. Here is how news service Aljazeera America described the situation in an article on September 29, 2015,  "Volunteers cross borders to fill gaps in refugee crisis response:"
The EU has struggled to respond to the arrival of more than 500,000 refugees so far this year and, amid squabbling over how to share the burden, member states have flouted calls for solidarity and scrambled to protect their own interests.
Major aid agencies like the Red Cross, Doctors Without Borders and the UNHCR, the United Nations refugee agency, are mounting relief efforts, but some of the quickest responders along the Balkan route have been civilian volunteers.
In addition to locals who have helped out in their cities or areas, young Europeans are venturing across the region to provide urgent, direct and sometimes essential help to struggling refugees.
For some it is an extension of activism at home, often with human rights, anti-capitalist and environmental groups. For others, it is a response to what they have seen and read about the refugee crisis. And for a few, the decision to help came when they were in the Balkans and could no longer look away.
The news service quoted several volunteers, who gave these responses:
"It gets to a certain point where you can't just watch and wait anymore," said Polly Rola, an Austrian who is among scores helping out, far from home, at trouble spots on the refugees' route through the Balkans toward Western and Northern Europe.
"We had some time and some money, so here we are," said Michael Schuller, who traveled with Rola from Vienna to the remote village of Bapska.
In the UK, the British media reported the frustration of many toward the government's seeming indifference or lack of will to help in the crisis. In response, individuals began to go online and offer refugees rooms in their private homes. The Guardian newspaper has been chronicling their stories in articles such as, "Refugees welcome! Meet the British families who have opened their homes to asylum seekers."
Are these self-directed activities effective and efficient? They are certainly not sufficient. And doubtless there are places where many refugees are getting help while elsewhere people remain in dire need. The effort is, in the true sense of the word, "amateur:" for the love of something. And it is definitely a life or death situation requiring sacrifice and personal risk for the volunteers.
Lessons for Volunteer Management
We were struck by how this situation gets back to basics. In all of our efforts to build the profession of volunteer management and create "best practices" for organizations to engage volunteers, we must never lose sight of how powerful volunteers on a mission can be. Famed anthropologist Margaret Mead once pointed out that the most effective path to change is a group of committed people. When individuals are determined to act, very little can stop them. And while a sobering thought, we should also note that they do not need a volunteer management professional to make a difference.
So what can we learn from this?
When we encounter fervent people who have a commitment to a cause, we need to listen. Of course we can turn them away from our organizations, but in many situations this will only increase their determination to act. The rejected volunteer applicant may become the founder of tomorrow's competing organization.
The "professionals" do not have all the answers or necessarily the best ideas. Seeing volunteers as the worker bees to put a project into action is only a small part of the story. We need to engage all current volunteers in identifying unmet needs and in strategizing new ways to meet them.
Our organizations have external limitations: lack of money, mandated responsibilities, pre-determined geographical boundaries, and risk management constraints. In the last analysis, volunteers are independent agents. They can cross borders as private citizens in ways that diplomats and official organization representatives cannot. Acting one-to-one, they can form alliances with any and all sides of a conflict. These are critical assets in a fast-moving emergency.
It's true that crises need many kinds of expertise and that trained first responders are undoubtedly among the best to provide medical services, demolition and rebuilding activities, and more. But every emergency boils down to individuals suffering, needing food and shelter, and feeling terrified. Any caring individual can help meet those needs.