The Ellis Archive: An Exceptional Resource for the Field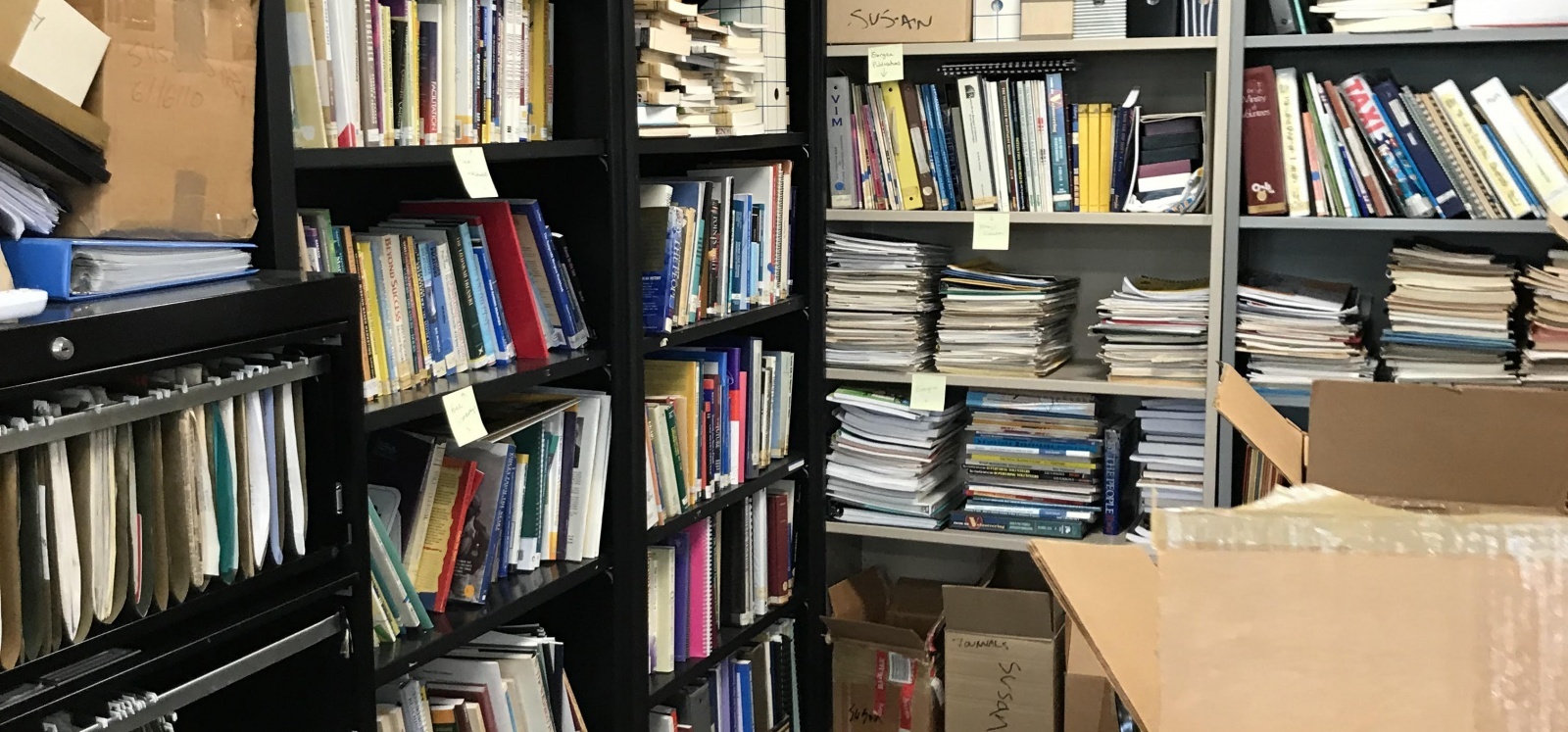 When Susan J. Ellis passed away on February 24, 2019, her extensive resource library in her Philadelphia office had evolved into a collection of multiple filing cabinets and five sets of shelves packed with papers, books, documents, and periodicals. This resource library also included a stack of boxes containing the personal collection of Ivan Scheier, an early pioneer in the field of volunteer management who left his printed resources to Susan when he passed away in 2008. 
Susan always envisioned that her library materials would stay together and be available for future research. Through her express wishes and her written will, she established the Susan J. Ellis Foundation, and a key part of the Foundation's mission is to keep Susan's research library intact and to make it available to the public. The trustees of the Foundation have taken this mission seriously. After a year of work, this exceptional archival resource and volunteer management treasure is now officially available at the Ellis Archive on the Professional Leadership of Volunteers.
The bulk of this work has been carried out by Head Archivist Katherine H. Campbell, who started her career in the volunteer sector as an intern working with Susan. Since then, Campbell's distinguished career over the past few decades included directing the Association for Volunteer Administration and the Council for Certification in Volunteer Administration (CCVA). Now retired from CCVA (though we all know you can't really "retire" from volunteer management!), Campbell agreed to take on the task of developing the Ellis Archive as a way to honor Susan's legacy and make the archive broadly available for the continued advancement of the profession.  
This Voices provides a behind-the-scenes look at the history and development of the Ellis Archive, with a brief review of why and how it chronicles the development of the volunteer engagement profession. It also includes some insider information on how best to use the archive, and concludes with suggestions for how individuals like you can play a role in the future of the Ellis Archive.
The Ellis Archive Back Story
When Campbell first approached the materials for the Ellis Archive, she knew that there was going to be a mountain of documents to go through in Susan's office and in her Philadelphia home. As Campbell noted, "Susan never threw away anything." But it's important to note that Susan wasn't a hoarder who couldn't throw paper away; she saved it all because she valued information. And she knew that one day each of those pieces of information would be valuable to someone else. During her lifetime, she opened her research files to anyone, and people in the field often visited her professional office to do research. 
Not long after Susan passed away, Campbell made three trips to Philly to review Susan's materials, wading through the treasure trove in Susan's cabinets. She had to decide what was important to put online – both as relevant to the field today and to capture the field's history. In order to help determine which information had academic value, she consulted others like SarahJane Rehnborg of the University of Texas at Austin, who would be searching the archive through a different lens.
For nearly a year, from 2019 to 2020, Campbell went through every file folder. Because she had already worked closely with Susan and was actually involved in Susan's earlier cataloging efforts, Campbell understood Susan's system and used it to organize the multiple piles of papers and documents waiting to be processed. Campbell said that she "felt Susan sitting on her shoulder" throughout all of the work.
One interesting footnote: Campbell and Susan not only worked together early in Campbell's career but they also co-wrote the seminal volunteer book, By the People: A History of Americans as Volunteers, published in 2005. While working on the archive, Campbell noted that one of the best parts of going through Susan's papers was rediscovering the history she personally lived through as she got started and learned the profession. This included documents that Campbell had worked on as Susan's student intern – long forgotten by Campbell but carefully saved and filed away by Susan. It was actually exciting to see the things that Susan had valued and saved, an unexpected trip down memory lane.
Historical and Quirky Jewels Saved by Susan
Along with bits of her own history, Campbell discovered that Susan's folders contained important pieces of history that are little known and would have been forgotten if not for Susan. Some of these include:
A 1947 booklet called Volunteer Workers, published by the National Committee for Mental Hygiene, Inc. This is the earliest example of written volunteer management guidance and practices on the timeline. This booklet, written almost 75 years ago, yellow and frayed around the edges, still contains guidance relevant to us today. It also demonstrates the professions' roots in the mental health field, which was the first to create and designate a paid role in managing volunteers. (This one Katie couldn't bear to recycle once she had it digitized!)
A number of writings by pioneers in the field that have not been published in books –including works and white papers by Ivan Scheier, Marlene Wilson, and Harriet Naylor. For instance, Naylor did a lot of work advocating for the profession at the federal level in the United States; she succeeded, as our profession is now recognized in the American government's Dictionary of Occupational Titles.
Early documents related to the creation of the Certification of Volunteer Administration (CVA) and professional ethics.
A pamphlet called "It's our time" about The International Year of Volunteers in 2001 that raised the awareness level of volunteering and leaders of volunteers globally. This event is considered a turning point for a greater focus on professional development.
The Ellis Archive also includes some quirky and humorous finds from Susan's cabinets:
Two Main Features of the Ellis Archive: A Database and a Milestones Timeline
After she had reviewed every box and every file, Campbell ended up taking 20 boxes filled with the most important, quirky, and significant papers back to her home to digitize. This laborious step would ultimately turn the documents into online resources and create the Ellis Archive. 
As a result, the Ellis Archive already has two main features – a Database and a Milestones Timeline. Here are some details about both.
The Ellis Archive Database
The Ellis Archive Database is the largest part of the Ellis Archive. It currently provides 1,162 pieces of information, including articles, sample program materials, booklets, how-to manuals, original writing, speeches, newspaper clippings, research reports, data, and examples of trends related to volunteer management. While most documents are from the United States, there are several from Canada, United Kingdom, Australia, and other countries.
To help you browse through and locate information, the database contains a robust search feature that ensures you can find exactly what you are looking for as you search by title, source, year, author, or keyword topic. Items are currently organized into 32 keyword topics, with some cross-referencing.
For example, here are a few keyword topics already programmed for a search, with a few results:  
Diversity and inclusion – Resources on how to diversify your volunteer recruitment, some focused on ethnicity, race, older volunteers, rural and urban, or engaging youth. An example: "A New Voice to Answer Community Need: Volunteers Intervening for Equity," published in the late 1970s by the Association of Junior Leagues, Inc., New York, NY.
Staff - Volunteer relations – A wealth of resources on how to work well with staff across an organization. An example: "Building Volunteer Staff into an Agency's Organizational Structure," written in 1975 by Hope M. Martin, University of Maryland Cooperative Extension Service, Leonardtown, MD.; and
Evaluation – A collection of existing evaluation surveys and tools, such as this scorecard tool.
The database also includes an option to search by an individual author's name. For instance, a search for "Susan J. Ellis" brings up 80 pieces of Susan's writing that help illustrate the breadth of her expertise: 
The Ellis Archive Milestones Timeline
The second main feature of the Ellis Archive is the Milestones Timeline, which offers the ability to view the evolution of our field on a timeline.
Currently running from 1947 to 2005, this Milestones Timeline is based on existing database documents and seeks to chronologically reflect a portion of the pivotal events and trends that influenced the work of volunteer engagement professionals during the 20th Century. While it is by no means all-inclusive, the Milestones Timeline provides a relatively simple way to explore the database content without being overwhelmed. For instance, during a quick break from work, you can scroll down the Milestones Timeline and mark a few notable milestones that speak to you, open, and skim.
Some of the content that Campbell highlights in this timeline reflects not only historical milestones but also important people in the profession, recognized for their contribution at the time and also relevant to our work today.  Consider these examples:
The Continued Work and Future of the Ellis Archive
As you browse through the Ellis Archive database and timeline, you'll get a sense of the great gift that Susan left to all of us by being a caretaker of history and a collector of works important to the field. What you may not get a sense of, however, is the immense amount of work that went into curating all of this information. For this, we owe Katie Campbell a tremendous debt of gratitude. 
And the work isn't over! There is more to do! Though Campbell has digitized and catalogued most of Susan's original folder contents, there are still mountains of books and professional journals that need to be prioritized and digitized. Thanks to a grant from The Leighty Foundation, we are working to make this happen. 
For instance, from 2020 to 2021, the Ellis Archive anticipates digitizing and sharing online a selection of the professional journals originally housed in the Susan J. Ellis Resource Library. This project includes the complete collection of journals published by the former AVA. Campbell and others are also working to determine which books from Susan's professional library are in the public domain, and can therefore be digitized and shared with the public.
And in the future, the Ellis Archive also plans to create guidelines around accepting and adding additional material to continue to build the archive. Last but not least, there are plans to include a "Trailblazers" page to share information about those who had a significant impact on the professionalization of the volunteer management field.  
The result? Under a vision shared by all involved, the Ellis Archive will one day be the ultimate repository of volunteer engagement leadership information, the go-to-place for cataloging and securely holding the history of the field. The Ellis Archive will include not only include resources from Susan J. Ellis but it will also be a permanent home for the extensive writing about volunteer engagement that was previously scattered throughout the Internet or in boxes in people's offices. And the Ellis Archive will constantly involve and expand, as it continuously adds and incorporates documents from an evolving field.
Here's How You Can Help  
There are a few ways that you can become a part of the Ellis Archive and contribute your skills:
Katie Campbell is putting together a team of advisors to help with future development. If you have any interest in and excitement for this work, if you value history, or if you have experience in archiving, contact Katie at ktcampbell49@gmail.com.
New additions are needed to cover milestones in the 20th Century, especially from around the world. Please contribute.
Read and use the archive and give feedback on ways to improve this resource.
Add tags for research or academic research to move forward scholarly development in the field.
If you are interested in sharing information about the archive with your colleagues, feel free to contact archivist Katie for assistance at ktcampbell49@gmail.com.
Conclusion
The mountain of paper that created the Ellis Archive is no longer in Susan Ellis' office in Philadelphia, and her office doors have been closed. 
But the virtual doors that Susan and other volunteer engagement trailblazers have opened – and the volumes of information and documents they left behind – will help us carry on that legacy.  And hopefully, Susan will always be that "angel on all of our shoulders," constantly pushing us to take the profession to the next level.