Making Stronger Connections: Training Central Park Zoo Docents to Understand and Value Inquiry-based Interpretation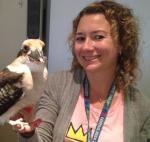 Inquiry-based interpretation is a growing educational trend in zoos across the country. But training zoo docents to become familiar and comfortable with this practice can prove challenging. It is critical to use existing research to develop an inquiry-focused training module that is fun, educational, and easily understood by the trainee.
In this e-Volunteerism feature, Amy Yambor, the Coordinator of Volunteers at New York City's famed Central Park Zoo, describes a new training module that focuses on inquiry-based interpretation. Introduced to Central Park Zoo volunteer trainees and active docents, the concept places them out in the zoo, participating specifically in group inquiry projects. Yambor explains that by having trainees participate in their own inquiry-based activities throughout their training, the volunteers begin to understand the value of this communication style. As volunteer management professionals, Yambor argues that the field must make every effort to be more effective when it comes to teaching inquiry as a communication tool.