Using Technology to Understand Volunteering Trends
Looking into the Crystal Ball
One of the more interesting leisure pastimes is watching the Internet colossus Google release new tools and gadgets to supplement its basic search engine.  You can find a listing of the current set at www.google.com/intl/en/options/index.html, and some of them, such as maps.google.com have already become essential play tools for some of us.  Where else can you view your house from outer space?
Google has hired a lot of very bright and very creative minds whose works-in-progress can be seen at labs.google.com and it is one of these we've been contemplating lately:  www.google.com/trends.
For those of you who are wondering what any of this has to do with volunteerism, we'll stop to make a point so obvious that many volunteer managers tend to forget it. 
Volunteering is a leisure activity that people fit into the rest of their lives, making the determination to allocate some of their discretionary time to volunteering based on how much time they have available and how interesting or important volunteering seems compared to other activities in which they might engage.  In one sense, volunteering is a competitive sport, but the major competition is not other volunteer activities as much as it is other activities, period.
One of the things about search engines like Google is that they provide an interesting opportunity to see what people are interested in based on what search terms are utilized.  You can find an interesting description of this in a recent New York Times article by David Leonhardt, "The Internet Knows What You'll Do Next," at www.nytimes.com/2006/07/05/business/05leonhardt.html (you'll need to register to see it, but that's free).
Google Trends allows you to see what people are searching for, and to see in which cities the term is search for most often.  And since you can't have a "trend" without a timeline, you can see a graph plotting usage over the past years in which Google has collected data.  We're providing "screen shots" of the pages so you can see what we are talking about (all the illustrations here were searches performed on Google Trends on July 6, 2006, at www.google.com/trends).
Three Examples
Volunteer
If you enter the term "volunteer" you'll get this result in Google Trends: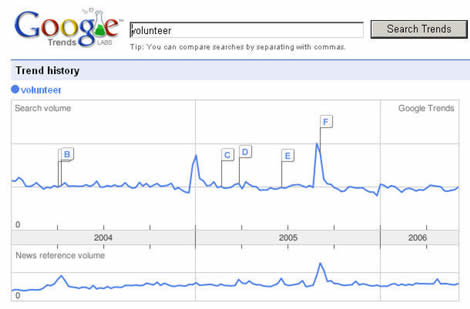 This is how we interpret these results:
There has been fairly constant use of the word "volunteer" as a search term since 2004, with spikes in usage in December 2004 and Fall 2005.  The Fall 2005 spike is the largest, representing almost a doubling in search attempts.
Google also allows you to match this usage trend with a "news reference volume" trend line, showing how often the term showed up in news articles.  The December 2004 spike in searches for "volunteer" wasn't matched with a spike in news references, but the Fall 2005 spike definitely was.
Google further provides a chart of the cities where the term was searched most often and for "volunteer" these are: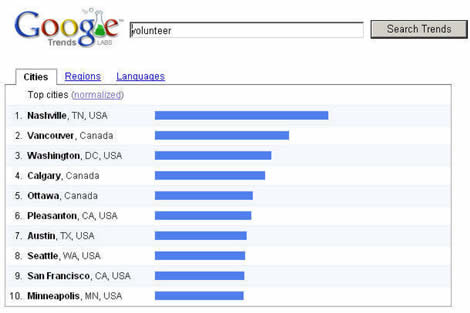 Volunteering
Since precise language is critical in computer searches you should also try related terms, and here's what happens if you enter "volunteering," a slightly different term: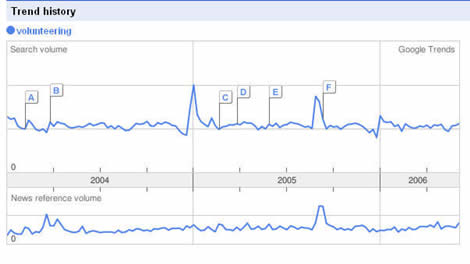 You get the same trend line in usage, with spikes in December 2004 and Fall 2005.
But you get an entirely different set of cities: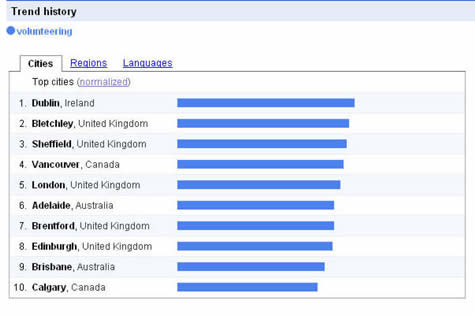 Community Service
For some time now, Susan has been using another Google service, Google Alerts (www.google.com/alerts).  Every day she receives two e-mails telling her where online the word "volunteer" and the phrase "community service" were used.   The Alert for "volunteer" contains pretty much what you'd expect, though it is often filled with news specifically about volunteer firefighting and emergency rescue, which is interesting. 
But the Alert for "community service" highlights the problem our field has with vocabulary.  Here is the entire text of the June 16, 2006 e-mail:
---

Google Alert for: community service

---


Boys Get Community Service for Chopping Dog's Ears
WREG - Memphis,TN, USA
COLLIERVILLE, Tenn-Two teenagers have been assigned 200 hours each of community service for trimming the ears of a pit bull puppy with a razor. ...
See all stories on this topic

Massachusetts Service Leader to Take Helm of AmeriCorps State and ...
TMCnet - USA
... Via Thomson Dialog NewsEdge) WASHINGTON, Jun 14, 2006 (US Newswire via COMTEX) --Kristin B. McSwain, a champion of national and community service on the state ...
See all stories on this topic

Drama director gets community service in sexual battery case
Hamilton Journal News (subscription) - Hamilton,OH,USA
... In addition to five years probation, Crehan ordered Stewart to perform 300 hours of community service, have no contact with minors except those in his family ...

2 plead guilty to taking bribes in community service program
Boston Globe - United States
... agency pleaded guilty Tuesday to bribery and racketeering charges for allowing criminal defendants to buy their way out of court-ordered community service. ...
See all stories on this topic

Community service, jail for road rage incident
Gary Post Tribune - Gary,IN,USA
VALPARAISO — Jonathan A. Villafane's road rage cost him a sentence of 30 days in jail and 30 days of community service Tuesday. ...
---
Google Trends includes sample Web articles for each spike on the grid.  Though we didn't include those with the two previous examples, when searching "community service" on Google Trends, the results are as follows: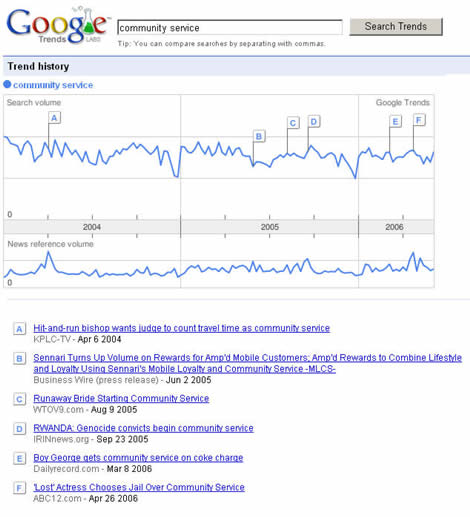 For those interested, the top ten cities for this search were:
                                                            
1.  Washington, DC, USA
2.  Sacramento, CA, USA
3.  Melbourne, Australia    
4.  Pleasanton, CA, USA  
5.  Atlanta, GA, USA           
6.  New York, NY, USA      
7.  Boston, MA, USA          
8.  San Francisco, CA, USA        
9.  San Diego, CA, USA    
10. Seattle, WA, USA           
Fascinating, no?
Figuring out What this All Means
Of course, the really entertaining thing is trying to figure out what any of this means.
Rather than regale you will our theories, we'll just pose some questions:
To what would you attribute the spike in use of the term "volunteer" in December 2004?  And why isn't there a similar spike in December 2005?

What caused the spike for both "volunteer" and "volunteering" in Fall 2005?

What causes the different sets of cities for use of "volunteer" versus "volunteering" – with entire changes of continent?

What might be happening in some smaller cities – such as Nashville, TN and Bletchley, UK – that leads to their inclusion on the lists?

Why do we persist in using "community service" as a synonym for volunteer/ing?

Enter yet another trend search term – "volunteerism" – and attempt to figure out:
What happened in mid-summer 2004 to cause searching for "volunteerism" to disappear?
Why does Singapore lead the world in searches for this term, by a huge margin?
Post your opinions at the end of this article in the comments section.
Making Use of This Tool
We can think of a number of possible uses for this tool:
For educators this is a great way to get students to think creatively about how volunteering interacts with events in the rest of the world.  You'll see this instantly based on your answers to Questions #1 and #2 above.
When the tool becomes more developed – which will probably include a capability for limiting the geographic area of the trend analysis – it will be possible for communities doing recruitment or public awareness campaigns to track local response.  You can see an incipient example of this if you enter the term "Volunteer Center" and then see the cities listed with the largest usage.
Wondering whether or not a trend is important to your geographic area?  Look at the results for a search on "Baby Boomers":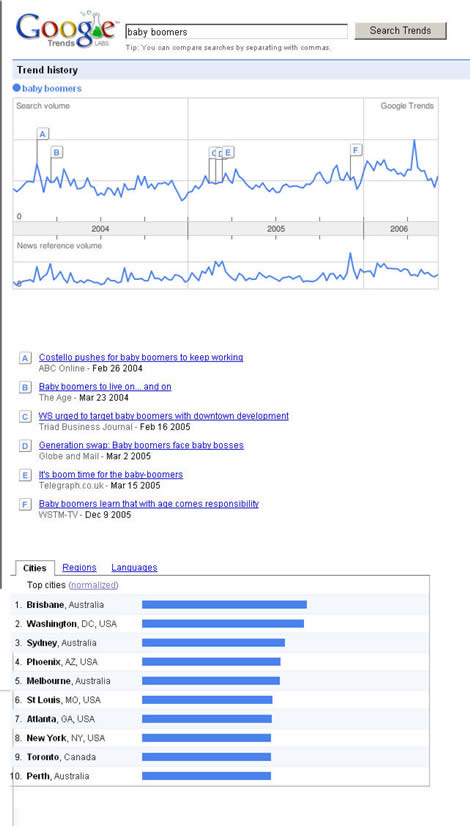 Looks like Australians are disproportionately thinking about this issue.
As always, our advice is to recruit some volunteers who find tools such as these absolutely fascinating and are willing to do all sorts of searches for you.  But be sure to convene a group of people when you do the analysis, because the data may be intriguing, but interpreting the data is still more of an art than a science.