Thinking Differently about Volunteering: Words from the National Trust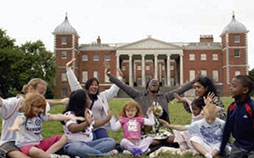 The National Trust, a British charity founded by volunteers in 1895 to advocate historic preservation and conservation, announced in 2010 its determination to make sweeping changes, both to expand public engagement at its properties and to restructure its internal staffing and procedures.
These changes included a mandate to think differently about volunteering:
To move away from volunteering being seen as a sacrifice ("I give up my time to volunteer") into volunteering as an active choice to use one's leisure time in meaningful and rewarding ways. Volunteering shouldn't be about giving up something; it should be about having everything to gain.
Part 1 of a two-part series, this feature article presents why and how the Trust decided to rethink its approach to its nearly 67,000 volunteers in a campaign called "Going Local." This article includes a reprint of one of the early products of this Going Local campaign, a booklet called Thinking Differently about Volunteering. In a few short pages, the booklet outlines the importance of volunteers and presents a game plan for moving forward with volunteer engagement at the National Trust. The results of this campaign, and the National Trust's continued efforts "toward our shared goal of engaging every household and connecting with local communities," will be presented in Part 2 of this series in a future issue of e-Volunteerism.