An Online Network Empowering Offline Action: Soroptimist's New Volunteer Model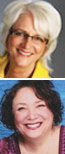 Whatever Happened To . . . is a recurring feature at e-Volunteerism that allows us to revisit past articles to see what has been happening since we first published the stories.
In this issue, we revisit "Perspectives on Membership Development," a story from 10 years ago about the Soroptimist International of the Americas, a global volunteer women's organization. In 2005, the story revealed, Soroptimist International had recently faced a downward spiral in membership numbers and the closing of local clubs. Unlike other similar organizations in the same situation, Soroptimist had risen to the challenge by deciding to motivate its members to revamp tradition, discover new ways of doing things more relevant to women, and grow its membership.
In this fascinating update, Soroptimist's Executive Director Elizabeth Lucas and Senior Director of Membership Marketing Darlene Friedman explain what Soroptimist is doing today to meet the challenges facing all volunteer and member-based organizations. The organization has created "an online community empowering offline action" called LiveYourDream.org, "a self-motivated community of people who wish to support women and girls in their quest to lead better lives, while gaining inspiration in their own lives." We can all learn from this so-far successful approach to engaging non-members in volunteer activities (more than 50,000 people have signed up to date), and other changes Soroptimist has made to revitalize its approach to volunteerism in the 21st century.